More graduation pictures coming soon
2004 CLASSES
---
Graduation
Class of 02-22-04
(Sacramento California)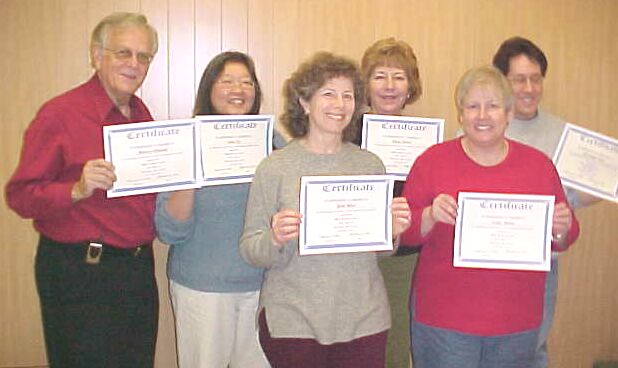 Malcolm (CA) --Zinnia (CA)--Janet (CA)--Donna K. (CA)--Cathy (CA) --Chris (CA)
A special thank you to Janet for hosting the Sacramento class and to Raley's grocery stores for providing the classroom.

---
Graduation
Class of 02-27-04 (Eureka California)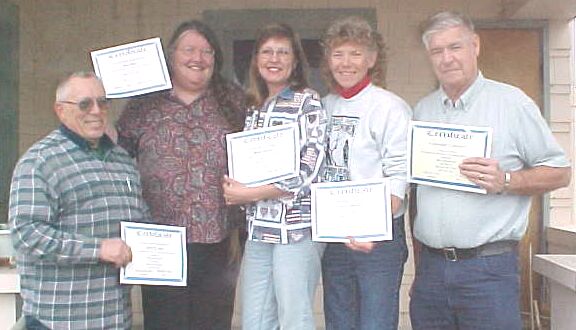 Robert (OR) -- Donna H. (CA)--Wendy (Canada) --Lauren (CA) -- Tom (CA)
A special thank you to Donna for hosting the Eureka class and for the first class coffee served each day.
BTW, if you have not joined the "wefixit" group, click here for a wealth of shared sewing machine knowledge.
http://groups.yahoo.com/group/wefixit/

---
Graduation
Class of 03-13-04
(Casey Illinois)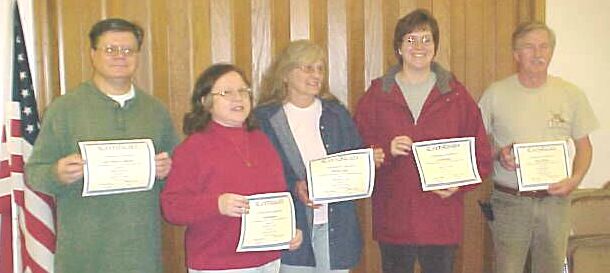 Dennis (IL)---- Linda (OH) -- Madelyn (IN) ---- Lisa (IL) ---- Robert (MI)
A special thank you to Dennis and the First Christian Church for hosting the Casey class.
---
Graduation
Class of 04-19-04
(Ironton Missouri)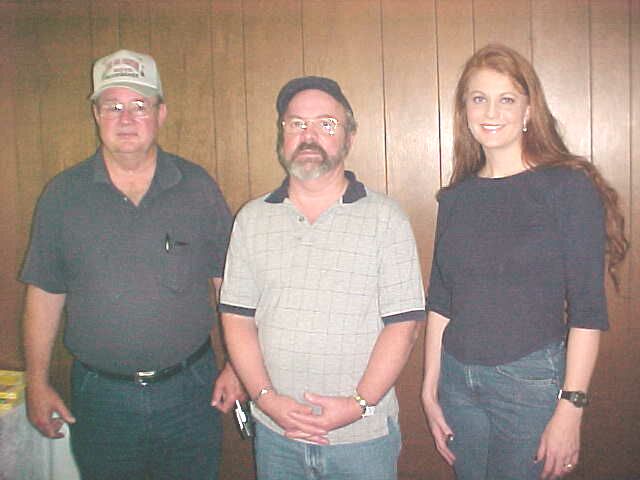 Bob (TX)--------------------Danny (AR)------------------Melanie (AR)
---
Graduation
Class of 06-09-04
(Fort Worth Texas)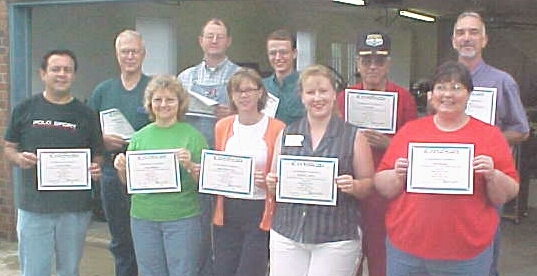 Front row: Carlos (Tx)- Edna (Tx)-Mary (Tx)-Allison (Tx)-Cindi (Tx)
Back row: Tim (Tx)-Calvin (Tx)-Garrett (Tx)-Glen (Tx)-Ronnie (Tx)
Not in picture Jim (Ok)
A special thank you to Cindi and her husband Bill for hosting the class and for extending that great Texas hospitality to my wife and I during our stay at their home. Also everyone enjoyed a real Texas barbeque with all the trimmings provided by Bill and Cindi.
Thank you.
Also a special Thank you to Bob, one of our former students, who shared his knowledge and assisted with many questions.
More Pictures

Class at work
17 year old student "Garrett" completes a major gear replacement repair
Best wishes to Garrett, who plans to open his sewing machine repair business soon.
Ron and Allison with her Noltings quilting machine after repairs were completed